Powder Coating Services Melbourne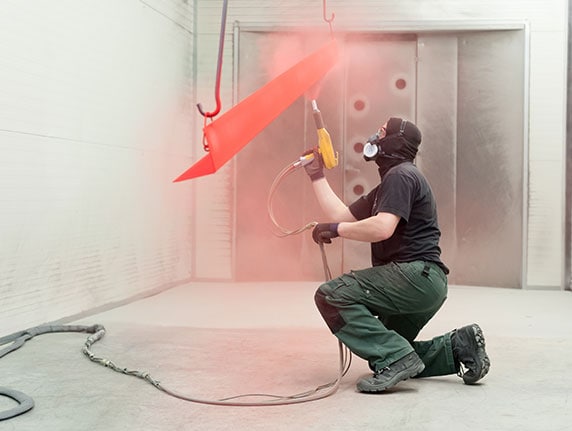 When they're in need of a professional and cost-effective powder coating service, Melbourne residents call on the team at Sprayfast.
We've been a go-to name for fast, reliable and comprehensive powder coating solutions since 1988, helping clients right across Melbourne in a range of diverse industries such as councils, security door manufacturers, tubular fencing companies, etc.
As a family-run operation, we understand the need to provide customers with an honest and qualified service, ensuring they receive value for money when they work with our technicians.
Powder coating is the perfect way to paint and protect a number of products and materials, with our skilled team able to work on even the most awkwardly shaped items and deliver an unbeatable service.
Tougher, more durable and easier to apply than traditional paint options, powder coating works to protect surfaces from common wear and tear, weather exposure and rust. This means it is the perfect option for industrial machinery, parts and components, and devices that have to shoulder a heavy workload.
The Sprayfast team is committed to delivering top-quality services and lasting powder coating solutions, whether we're working for a major brand or company, or an individual client.
When they choose our powder coating services, Melbourne customers will be able to choose from more than 400 colours, with our team easily able to apply the coatings in a range of eye-catching and personalised designs to suit your business or brand.
For more information on the benefits of powder coating, Melbourne customers can call the qualified team from Sprayfast today on 03 9720 5755.
Powder Coating Wheels Melbourne
Tired of your old and dull wheels on your car? Always wanted to give them a little life or flair? Then you have come to the right place.
Here at Sprayfast we are a leading name when it comes to powder coating for wheels in Melbourne, providing our customers with a reliable, fast and cost-effective service that delivers lasting and eye-catching results.
We have been in business since 1988, employing a skilled and professional team who can provide the right service for any job.
Powder coating does more than just improve the look of your wheels as it also offers a long-lasting and protective barrier that is stronger and more durable than paint alternatives.
As one of the most exposed elements of the car, wheel rims are highly susceptible to wear and rust. They have to endure the effects of weather exposure and varying road conditions and surfaces, which can all contribute to a limited life span and a need for replacements.
Customers can choose from our range of more than 400 colours, with our team able to apply the coating in a number of striking or attractive designs.
As well as trusted powder coating services, the Sprayfast team also provides quick and easy sandblasting work.
Our experienced sandblasters can accurately remove any build up of grime, rust or dirt from your wheels, making even the most weathered surfaces look as good as new. Sandblasting also works to prepare the wheel for our powder coating services and any further protective treatments.
For more information on our powder coating services for wheels, Melbourne residents can call our team on 03 9720 5755.